16 August 2023
Keeping Safe Online
You may have seen our Facebook post at the recently about a scam page trying to trick our members into clicking a link to claim a competition prize. Thankfully some of our members realised this was a scam and reported it to us.
It is an excellent example of how easy it is for a page to take on the guise of another to try and scam people. We wanted to take this opportunity to show how you can spot a fake Facebook page.
The fake page has no likes vs over 6000 likes on our actual page. The fake page also describes itself as a "Gaming Video Creator".
In the page transparency section Facebook provides information on the history of the page. As can be seen below the history of the fake page shows that it was set up only in July and under a different name. It was changed to Enniskillen Credit Union on 11th August, just in time for our competition to end. Our actual page was created in 2016 and has never changed its name.
Always be wary of clicking a link claiming to offer a prize – Especially if you have entered a competition – ask yourself, does the link look genuine? does it go to a site that belongs to the company? In this example the link is full of random characters.
Unfortunately, it is possible for a scam link to look genuine so always contact directly if you are unsure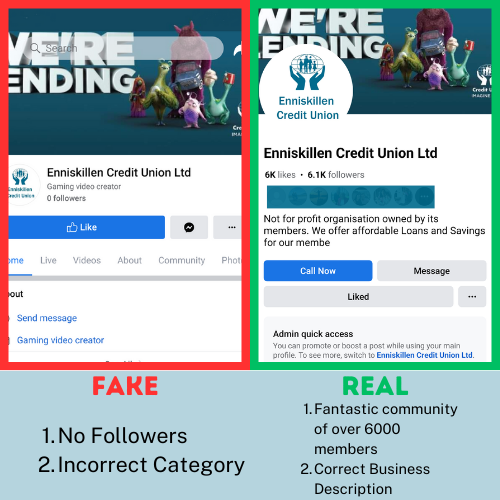 Back to News