How To Guides
Opening and account and becoming a member of Enniskillen Credit Union is Simple.
Eligibility
Firstly, Each Credit Union has what's called a "common bond", For most Credit Unions, this the area where members live or where they work- potential members will need to live or work within this bond to be eligible to join. This is known as a community-based Credit Union.
Enniskillen Credit Unions Common bond is to Live or Work in the Enniskillen or Kinawley Areas if you are unsure if you home or work address falls under this bond you can enter your postcode or address into our bond area checker.
If your address is within the red areas, you are eligible to join.
If you address is just outside the area please get in touch as you may still be able to Join.
If you are unable to join us the map also points out other Credit Unions in Fermanagh, contact your nearest as you may be able to join them.
Apply For Membership
If you are within our bond then you are one step closer to joining, First you will need to complete an application form, this form will capture some basic information to allow us to being opening your account when you visit our office.
Information requested will be: Name, Date of birth, Address, Occupation/place of employment and Contact Details,
Application forms can be picked up in either of our offices or downloaded here:

Next, we will need you to provide some documents, what you need to provide will depend on how you are eligible for membership. The table below shows what you need and when.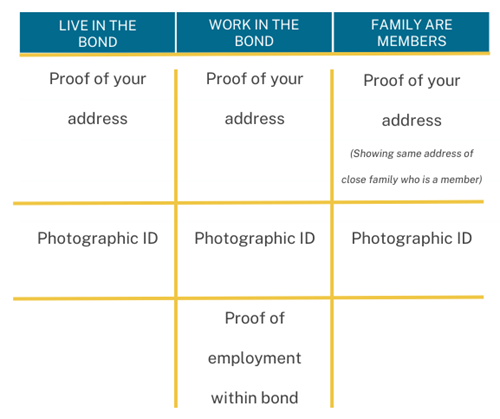 The Next table shows What documents we can accept
Now that you have your application complete and your documents ready you're all set to become a member of your local Credit Union simply call into either of our offices with your form and Documents and we will have your account opened in a few minutes.
Once your account is open you will need to pay in a minimum balance of £2.00 and pay a £1.00 membership fee*. (*This in a one-off joining fee)
We will then issue you with a member passbook which will show your membership number and your account number / sort code. The passbook is also a handy place to keep your transaction receipts.
And that's it, you are all set up as a member of Enniskillen Credit Union, have a look at all our other How to guide to make sure you know how to access and use all our services, and if you ever need to get in touch our contact details can be found here:
Close Account
We are sorry to see you want to close your account but don't worry it's easy to do.
Just before you go, please have a look at the services you could be missing out on.
Still need to close your account?
No problem, simply call into the office with your ID and we can withdraw your account balance (In Cash, Cheque or Bank transfer) and close your account.
Cant come in or closing account because you have moved?
Get in touch with us and we can work out the easiest way to get the account closed for you. You find our contact details here:
Joining a new Credit Union?
Let your new Credit Union know you have an account with us, and the two Credit Unions can handle transferring your account for you.
Thinking of joining our Credit Union or not sure what you can do with your account? This guide will show you some of the benefits of a membership with Enniskillen Credit Union.
Savings
Savings
With our Credit Union you can save up to £15,000 (£10,000 for minor accounts), not only are these savings secure they help all other members in our local community. A Credit Unions ethos is to provide a mechanism in our community for mutual self-help. This allows those who have the capability to and are in a position to save to increase our fund pool to lend to members who maybe unable to get credit elsewhere
Not only are your savings helping other members in our community but they are can also gain a return. Every year (subject to availability) the Credit Union pays back its surplus Income to its members in the form Dividends on Savings and Rebates on Loans. More information about Dividends and rebates can be found here
Dividends & Rebates
Dividend and Rebates
A Credit Union at its heart is a non-profit organisation, what that means for our members is that all the money we make on loans or from our investments goes towards paying for our operational expenses and improvements to our member facilities. The remaining amount (if available) is called our surplus. Some of this surplus will go into our legally required reserves but the rest will be given back to members in the form of a Dividend on their shares or a rebate on the interest they've paid on a loan over the last year.
The rates of Dividend and Rebates are calculated following our financial year end on the 30th of September and are declared to our members following our annual audit at our AGM in December. (That means you can get some extra funds just in time for Christmas)
The Table bellow shows an example of how these funds were used for the financial year ending 30th September 2022.
For our Junior account (Up to age 16) the Dividend is based solely on investment income received. For the Year ending 30th September 2022 we were able to pay 0.65% which equated to £8,116.00 paid to minor accounts.
These rates are dependent on how the Credit Union performs in the year so they can go up or down. Our annual accounts can show how the surplus is split for the current year.
AXA Member Discount
Car & Home Insurance Discount
Enniskillen Credit Union have partnered up with AXA Insurance to provide a benefit scheme just for you.
It's open to all members and their spouses, if they live at the same address, and will stay in place for the life of the policy.
Visit axani.co.uk/creditunion, click 'Get a Quote' and the promotion code will be automatically applied to your quote.
If you need more information, drop into your local AXA branch or give them a call on 02892 445566.
Just let us know you're a Credit Union member to get the discount
Member Insurance: Life Savings, Loan Protection & Death Benifit
The how and why of our day to day
The Credit In Credit Union
A credit union office in your pocket
Online vs App (what and where)
We are here to help at the sadist of times
If something's not right we will fix it
Complaints policy
Complaints Procedure
As a member owned and member run organisation, our members are at the heart of everything we do. Whilst we want to provide you with the best service possible, we recognise that sometimes things can go wrong and when they do; we want to know so that we can help sort them out as quickly as possible.
This page explains how you can help us deal with your complaint and what you can do if the problem hasn't been resolved to your satisfaction.
How it works
If, for whatever reason, you are unhappy with any of our products or services please let us know in by email to our complaints officer at louise.mulrone@enniskillencu.com (please put "my complaint" in the subject box) or you can write to us at:
Complaints Department,
Enniskillen Credit Union,
27 Darling St,
Enniskillen,
BT74 7DP
Enniskillen Credit Union takes complaints very seriously and every complaint will be thoroughly investigated to identify the cause of the problem and resolve it fairly. Of course, it may be that the complaint is purely a misunderstanding that can be quickly cleared up, in which case we will act appropriately.
Once we have received your complaint, we will do everything that we can to resolve this for you as soon as possible. Where we are able to resolve your complaint within three business days, we will send you a letter confirming this which will inform you of your right to refer your complaint to the Financial Ombudsman Service if you are unhappy with the resolution provided. Where we are unable to resolve your complaint within three business days, we will send you a written acknowledgment of your complaint.
We recognise the importance of identifying how and why the issue occurred in the first place. Each complaint will be reviewed to identify the root cause as part of the investigation to ensure that, where required, redress is appropriate, and that we take relevant remedial action to ensure the same thing doesn't happen again.
If you are unhappy with our response, you have the right to refer your complaint to the Financial Ombudsman Service, free of charge, but you must do so within six months of the date of our final response. If you do not refer your complaint in time, the Ombudsman will not have our permission to consider your complaint and so will only be able to do so in exceptional circumstances. Details of this service will be given to you within our final response.
It is important that you give us the opportunity of resolving the problem before referring it to the Financial Ombudsman Service. However you have the right to refer your complaint to the Financial Ombudsman Service before such time. The Financial Ombudsman Service will be able to assess your complaint if Enniskillen Credit Union agrees to this.
We hope to provide you with a full response as soon as possible; however, in some situations a more in depth investigation is required, so that we can fully investigate and respond to your concerns. However, we will keep you updated throughout this time, and where possible we will do our very best to respond to you more quickly.
The Financial Ombudsman Service
If after a period of eight weeks we have been unable to come to a satisfactory resolution and are therefore unable to issue you with a final response to your complaint, we will confirm this, together with the timescale in which you can expect a final response. At this stage, if you are dissatisfied with the delay you may refer your complaint to the Financial Ombudsman Service.
You can contact the Financial Ombudsman Service by either writing to them at the following address: Financial Ombudsman Service, Exchange Tower, London, E14 9SR. You can also contact them on the following number 0800 023 4567 or by visiting https://financial-ombudsman.org.uk
And finally...
We hope that you will never have the need to use this complaints procedure. However, if you do, please be assured that we will deal with your complaint as quickly and as fairly as possible
Contacts
Manager / Complaints Officer
Louise Mulrone
Louise.mulrone@enniskillencu.com
Main Office
Enniskillen Credit Union
27 Darling St
Enniskillen
BT74 7DP
(028) 66323616
Financial Ombudsman
Still need help?
If these guides haven't helped with your query or if there is something else we can help with please get in touch.